INDIE PEARLS AWARDS 2022 – MEET THE WINNERS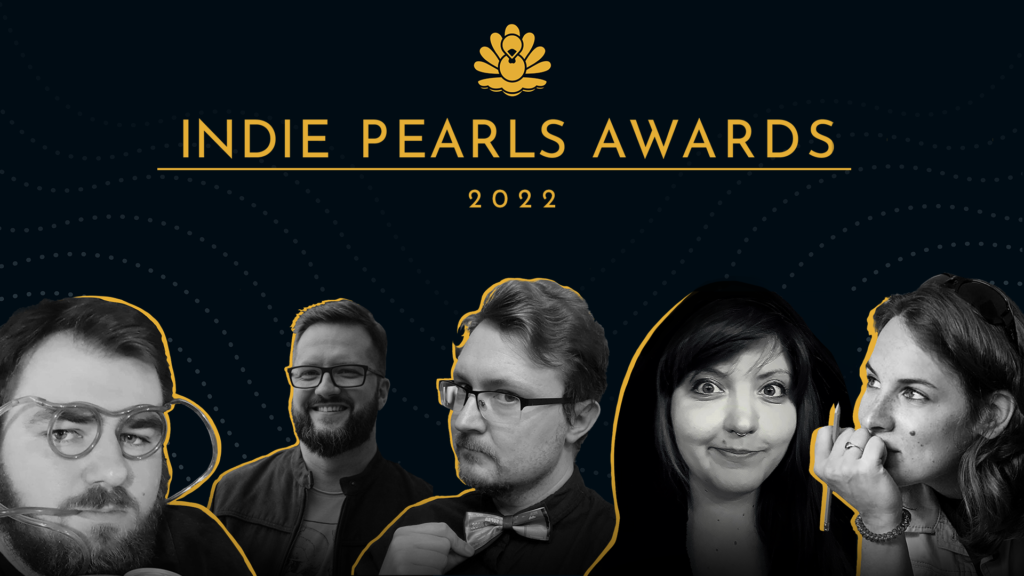 First Indie Pearls Awards Ceremony was held on February 9, 2023, on an official Indie Pearls YouTube account. The event, led by our chairman, Łukasz 'Pan Dibbler' Kostka, was around 35 minutes long and included a lot of excitement, special guests and (most importantly) great indie games:
During the ceremony, awards were given in six categories:
• Best Art Direction – Trek To Yomi (Leonard Menchiari, Flying Wild Hog)
First award of the night, given to the best game in terms of a general art style. Both the nominees and the winning title were announced by talented artist Kasia Zielińska from Techland.

• Best Music – Metal: Hellsinger (The Outsiders)
If there is a visual award, then there has to be an audio one. With the help of another honorable guest, composer Arkadiusz Reikowski, a second Indie Pearls Award was given.

• Best Narrative – As Dusk Falls (INTERIOR/NIGHT)
The jury could not forget to reward the narrative aspect of indie games. In reality, one of the hardest fights took place exactly on this field. The results of this fight were presented to the public by one-and-only Maria Borys-Piątkowska, Narrative Designer from Flying Wild Hog.

• Best Design – Tunic (TUNIC Team)
Design is also a crucial aspect of every game. Without good gameplay even the prettiest, best sounding title will be unplayable. Tunic's mechanics and design was not only good – they were the best among indie games released in 2022. This award was given by Editor in Chief of CD-Action, Dawid 'spikain' Bojarski.

• Audience Award – Stray (BlueTwelve Studio)
Power is not only in the hands of the jury, but also the audience. After a poll on an official Indie Pearls site, another game was able to join the honorable ranks of 2022's victors. Voters decided, in quite one-sided vote, that Stray was the best indie game of the last year.

• Best Indie – Tunic (TUNIC Team)
Last but certainly not least, the most important award of the ceremony. After a fierce battle, the jury decided to give it to Tunic, therefore making it the only game that received two Indie Pearls awards. With the presentation of this honorable title helped us none other, than the Editor in Chief of arhn.eu, Arkadiusz 'Dark Archon' Kamiński.

Of course, the ceremony included other interesting points, such as Honorable Mentions for games that haven't been nominated in any category, but still deserved the recognition. We also presented a lot of trailers for upcoming indie games and highlighted some of the best indie games that came out in 2022 in early access.
We would like to proudly announce that we are currently working on another Indie Pearls Awards edition and tirelessly hunting down and checking out new, interesting indie titles. This short article about the first Indie Pearls Awards Ceremony is also a turning point for us. As you probably noticed, until that moment, we used Polish as the main language. From now on, however, Indie Pearls Awards will be entirely in English.
We hope to see you on all of our social media and, of course, during the Indie Pearls Awards Ceremony 2023!